Blog #4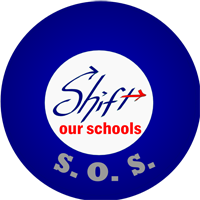 We had a great conversation last Thursday night on the Shifting Our Schools (SOS) podcast. We ran about an hour and one thing I love about running my own podcast is I get to determine the length. As long as the conversation is good...let audacity roll!
At one point in the show we start talking about teachers and what we (as technology people who are helping to embed technology into the regular classroom) want to see. We talk about teachers who are willing to learn and banter that around for awhile until we land on this:
"We don't want teachers as learners, we want teachers as risk takers!"
If you listen to the podcast you'll know when I say it because there is a long pause as we all let that sink in. But it's true, as a teacher, as an administrator I want risk takers.
What if we change the interview question from:
Do you consider yourself a life long learner? (A question I've been asked in every interview)
to
Are you a professional risk taker?
Give me an example of a professional risk you took last year?
What did you learn from this risk? What would your students say?
Do you believe it's OK to fail
URL: http://www.thethinkingstick.com/?p=644#comment-26507
My Response:
In my education class at Illinois State University we read the book Chalkbored by Jeremy Schneider and I think this book would be of interest to you. For a few days in class we went over his ideas of how to bring technology into the classroom. I believe he would agree with your quote, "We don't want teachers as learners, we want teachers as risk takers!" He believes that students are bored in the classroom because they do not engage in activites in the classroom that they do at home. Students at home blog and play on "you tube" however in school, they are expected to leave their technology at home.
I think that your interview questions are very thought provoking and interesting. Since I am still in school, I have no idea what the interview process is for teachers. I will surely think of answers to these questions before I become a teacher. I hope to be that teacher that takes risks in the educational system.
Sincerely,
Mary Vitacco
By Mfvitac on Mar 26, 2008