Wednesday, March 26, 2008
Blog #4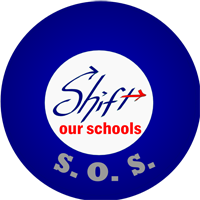 We had a great conversation last Thursday night on the Shifting Our Schools (SOS) podcast. We ran about an hour and one thing I love about running my own podcast is I get to determine the length. As long as the conversation is good...let audacity roll!
At one point in the show we start talking about teachers and what we (as technology people who are helping to embed technology into the regular classroom) want to see. We talk about teachers who are willing to learn and banter that around for awhile until we land on this:
"We don't want teachers as learners, we want teachers as risk takers!"
If you listen to the podcast you'll know when I say it because there is a long pause as we all let that sink in. But it's true, as a teacher, as an administrator I want risk takers.
What if we change the interview question from:
Do you consider yourself a life long learner? (A question I've been asked in every interview)
to
Are you a professional risk taker?
Give me an example of a professional risk you took last year?
What did you learn from this risk? What would your students say?
Do you believe it's OK to fail
URL: http://www.thethinkingstick.com/?p=644#comment-26507
My Response:
In my education class at Illinois State University we read the book Chalkbored by Jeremy Schneider and I think this book would be of interest to you. For a few days in class we went over his ideas of how to bring technology into the classroom. I believe he would agree with your quote, "We don't want teachers as learners, we want teachers as risk takers!" He believes that students are bored in the classroom because they do not engage in activites in the classroom that they do at home. Students at home blog and play on "you tube" however in school, they are expected to leave their technology at home.
I think that your interview questions are very thought provoking and interesting. Since I am still in school, I have no idea what the interview process is for teachers. I will surely think of answers to these questions before I become a teacher. I hope to be that teacher that takes risks in the educational system.
Sincerely,
Mary Vitacco
By Mfvitac on Mar 26, 2008
Wednesday, February 27, 2008
Blog #2
http://www.authenticeducation.org/wordpress/?p=38
Making the Connection
January 16th, 2008
by Chris Lehmann
· 15 Comments
Interestingly, I think that both answers are reductive. Teachers are born and made. There's no question that there are people who can step into a classroom and manage it, engage the kids and make the classroom an enjoyable place to be. And there are teachers for whom learning how to manage the classroom is a difficult, even torturous process. But what we're talking about is really just one part of being a teacher. Can you connect naturally with kids? Is that important? Of course it is. Very important. Kids who connect with a teacher will work for and with that teacher more easily.
But there is more to teaching than that. There's the craft of teaching, of learning how to structure a unit so that it's a cohesive whole, so that the ideas come together with skills and kids can end the unit and speak to what and how they've learned. There's the craft of thinking about curriculum in ways that make it much easier for students to understand what they learn, why they learn and how they learn. That comes with study, that comes with dedicating ones' self to the craft of teaching. And that often starts, for those "born" teachers, the first time you realize that those kids who are listening to you don't yet understand what they are doing or why they are doing it, except that they are doing it for you, which is, of course the wrong reason for a student to do anything.
Teachers aren't made or born. Teachers - good and great teachers - learn that the best way to improve as a teacher is to bring the authentic sense of themselves to the classroom and combine that with careful and deliberate study of the craft of teaching to become the best teacher they can be.
Mr. Chase // Jan 16, 2008 at 11:57 pm
I wonder, though, what the response would be of a teacher who is not born, who is made, has worked half a career to figure it out and still has half the mountain to climb.
The crafting and realization are true. And, I would argue, easier to pick up. What of the teacher who walks into a classroom with a beautiful unit plan centered around a cohesive whole, but without the ability to connect to kids? Can that be learned?
Mr. Chase's last blog post..On Editing
Mary V // Feb 26, 2008 at 9:22 pm MY RESPONSE
I believe that teachers are born and made. I am an ISU student majoring in English and I guess you could say I'm being "made" as you read this. I am learning the nitty gritty and loving every second, which means I MUST have been born a teacher! Seeing teaching from this new perspective (that not of a student yet also not that of a teacher yet) has given me insight into the world that I committed myself to at a very young age. I know that with the knowledge from ISU will prepare me for the technical parts of teaching; however, being thrown into the classroom is the only way to learn. I can not wait!